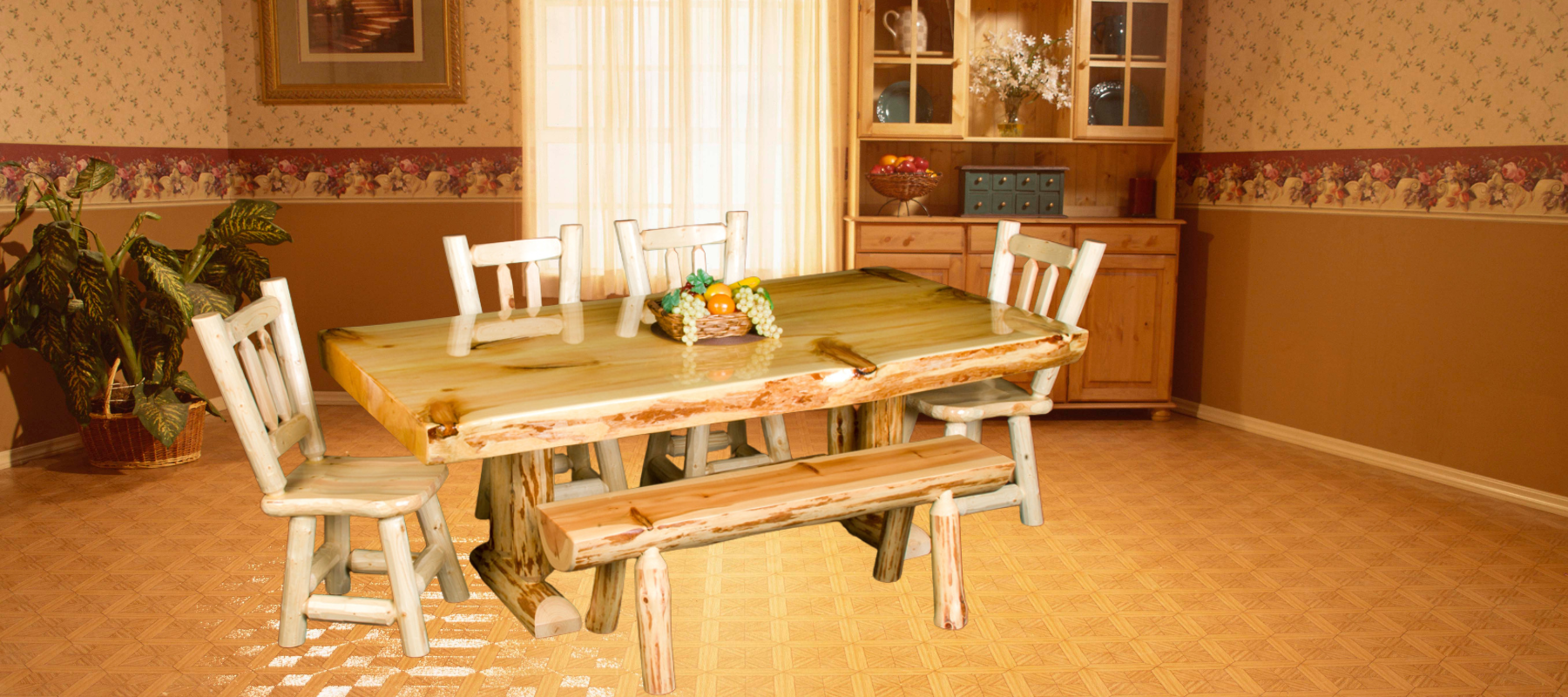 4 Unique Reasons a Natural Log Bench Is Perfect For You
Picture the rich reds and sunny yellows of blooming flowers making an oasis out of your backyard garden.
It's a beautiful escape from your busy life that does more than just recharge your batteries.
But what's missing?
A natural log bench to take it all in from. Its rustic appearance and earthy tones complement the natural beauty of your garden. And its sturdy build provides comfortable seating to enjoy your space with friends and family.
We've gathered four unique reasons why a natural log bench is perfect for you. As we delve into each, you'll also learn:
What makes a natural log bench so durable
How a log bench keeps your purchase eco-friendly
Why a natural log bench suits any setting
Where to find an exciting collection of rustic furniture
1 - It's Naturally Durable
There's a reason why natural log benches were a must-have for early North American tribes: their immense durability.
Build them once and these benches would bear the brunt of harsh conditions for years.
They resisted decaying from long winters, withstood cracking during the warm, grain-expanding summers, and held up to the pests of all seasons.
This impressive sturdiness came from many factors still present in modern-day log benches—moisture content, pest resistance, and a solid build.
Take this design from Rustic Furniture Marketplace, for instance.
The VIKING LOG HALF LOG BENCH ticks all the boxes of a durable natural log bench.
Solid build — This log bench is constructed from a single solid piece of wood rather than multiple pieces glued together.
This construction technique preserves its structural integrity and natural strength, making it resistant to warping and cracking from the expansion and contraction caused by temperature changes.
A glued-together log bench eventually loosens at the joints when subjected to the same temperature changes, making it susceptible to warping and cracking.
Moisture content — The VIKING LOG HALF LOG BENCH features clear lacquer spray to help preserve its natural moisture content and build resistance to cracking and warping.
Moisture limits the shrinking and swelling caused by temperature changes and helps maintain the natural shape of your log bench over time.
Pest resistance — The clear lacquer spray protects this log bench from pests. It creates a physical barrier all over the bench's surface, making it harder for insects to penetrate the wood.
The lacquer spray also masks the natural scent of wood, which would otherwise attract pests.
2 - It's Versatile for All Your Spaces
Variable sizes and a rustic finish makes natural log benches perfect for any setting.
For instance, picture your modern living room with all your sleek carbon-inspired gadgets. A small clear pine log bench adds a touch of nature to the contemporary setting, balancing it all out.
And how about your log cabin? A large honey pine log bench complements the surrounding organic environment, creating a cohesive aesthetic that's pleasing to the eye and worth a family photo.
The organic look also evokes a sense of history and tradition that's befitting of a cabin setting and perfect for adding meaning to your spaces.
The natural log bench has been used throughout history to celebrate dinners and family gatherings, and features in this log cabin setting picutured below for the same purpose.
Meanwhile, the durability of natural log benches makes them equally suitable for outdoor settings such as gardens.
The one-piece construction and lacquer coating keep these log benches strong and water-resistant to withstand damp gardens while providing you with a cozy spot surrounded by nature.
This particular log bench comes from pine wood, giving it long-term resistance to insects and fungal decay from wet environments.
Pine wood contains tannins, natural compounds that make this log bench bitter and unattractive to termites and carpenter ants.
Pine wood also contains resin, a sticky substance that seals cracks and gaps within the wood structure to prevent moisture penetration and decay.
3 - It Provides Health Benefits
"Sit up straight!"
How many times did you hear this growing up?
Well, it's not just a suggestion your parents and teachers kept giving for no reason. It's an excellent piece of health advice that a natural log bench can help you with.
Log benches encourage you to maintain an upright posture because they typically have no backrests or armrests to encourage slouching.
This upright posture limits the strain on your back by easing the muscles and tendons along your spine, allowing you greater comfort that helps lower your general stress levels.
The strain from bad posture would otherwise cause your body to produce cortisol, which is a known immunosuppressant hormone that makes you more susceptible to illness.
As you spend more time on your natural log bench and continue to maintain proper posture, you naturally develop the habit of sitting upright.
This trait carries over to contemporary chairs with back and armrests that enable slouching and ensures that you always protect your spine regardless of a seat's design.
4 - It Keeps Your Purchase Eco-friendly
Throughout its value chain, a natural log bench remains sustainable and keeps your purchase friendly to the environment.
This unique attribute comes down to three crucial aspects:
How your natural log is manufactured by responsible sourcing
Its length of service, which is long term
Its end-of-life, which involves composting
At the manufacturing stage, it's industry practice to source wood from well-managed forests that keep tree populations sufficient for biodiversity, soil health, and water quality.
These wood suppliers come certified by independent verification bodies, such as the American Tree Farm System and Forest Stewardship Council.
At the consumption stage, your natural log bench is built to last with a one-piece build and durable wood types. As such, a Northern White Cedar Log bench will last between 10 and 20 years.
Its cedar wood structure contains natural oils that repel insects and protect the bench from warping and cracking due to weather changes.
This durability stretches the period between replacements, giving forests plenty of time to replenish tree populations for the benefit of the environment.
At the final stage of the supply chain, your natural log bench is easily compostable and will break down in the presence of microorganisms to release nutrients back into the soil.
Like a natural fertilizer, your decompsing log bench will add nitrogen, phosphorus, and potassium into the ground, boosting soil health and creating an environment for more trees and plants to thrive.
Find Your Natural Log Bench and More at Rustic Furniture Marketplace
So, there are four unique reasons to get you as excited about natural log benches as we are.
But don't stop there.
Check out our careful curation of rustic furniture from some of the best craftsmen in the United States.
Among our favorites is the VIKING LOG SAWTOOTH HICKORY COFFEE TABLE. It's a beautiful custom piece with a dark finish that will play well with your natural log bench in any setting.
Our products are exclusively made in the United States by local artists, so buying from Rustic Marketplace Furniture promotes two American businesses: us and the independent artists we work with.
"Workmanship, style, comfort, looks, all come together… Great that it's 100% made in the USA… Totally satisfied."
Contact us today or visit our website to discover plenty of exciting furniture options for your space.
Frequently Asked Questions
What wood types make natural log benches?
Various wood types go into making natural log benches. These include cedar, pine, oak, and redwood.
Each variety bears different durability and aesthetic traits, making them suitable for manufacturing log benches. The following table compares these characteristics.
| | | |
| --- | --- | --- |
| Wood Type | Durability | Aesthetics |
| Oak | Naturally strong and resistant to insects and fungi | Golden-brown color that ages well (darkens) over time |
| Cedar | Naturally resistant to insects and decay | Warm reddish-brown color that adds to its rustic appeal |
| Pine | Requires treatment to improve resistance to insects and fungi | Light creamy color with a smooth texture |
| Redwood | Highly resistant to insects and decay | Rich reddish-brown color with occasional knots in its texture |
Are cracks bad for my natural log bench?
Not necessarily. It depends on the severity of the cracks.
Small cracks are part of the wood's aging process and add to the character of your natural log bench. However, deep cracks weaken the wood and must be sealed to prolong the lifespan of your log bench.
The key is to inspect your furniture regularly for early identification and intervention.
Can reclaimed wood make a natural log bench?
Yes, reclaimed wood makes excellent natural log benches. It adds a unique, rustic look to your bench designs, which contributes to their natural beauty and value.
Share on Facebook: