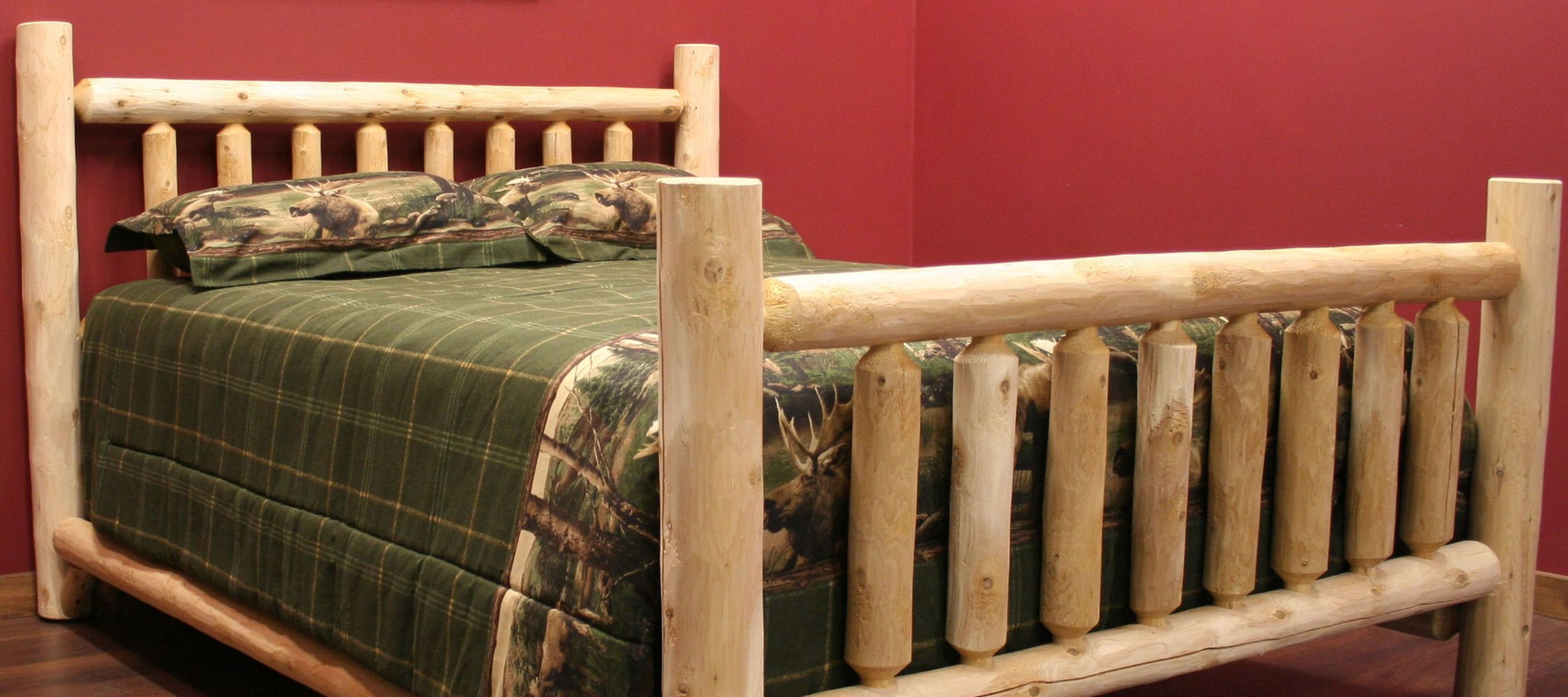 Log Furniture: Great Ideas for Choosing & Maintaining Your Dream Pieces
Are you looking to curate a space that takes you back in time? Do you crave a statement piece for your bedroom, or a majestic bed frame for your lodge in the mountains?
You're intrigued by the romantic charm that's created by rustic furniture. You know you've been touched by the magic of log furniture, but have no idea where to start.
Is your current dilemma on how to choose the right log furniture? Or do you already have your dream pieces and you need great ideas on how to maintain them?
From the right kind of wood to the perfect cleaning routine, this article will furnish your furnishing journey with ideas to make it easy and enjoyable.
Choosing the right log furniture and maintaining it is crucial to ensure:
Your furniture lasts for ages
That it complements your style
It's providing the right kind of comfort
Your space is not only beautiful but safe
1 - Make the Right Choice
In the world of log furniture, there are numerous styles and sizes as well as customization options. Your choice of furniture will be mainly guided by:
Type of wood
Size of your space
How to Pick the Suitable Type of Wood
One crucial choice you'll make when purchasing furniture is the wood type. This choice depends on:
Durability: Is it quality enough to last?
Appearance: Does it complement your overall aesthetic?
Maintenance: Is it high or low maintenance?
Cost: Is it within your budget?
In the following table, we see different types of wood and which log furniture they're best for:
| | |
| --- | --- |
| Type Of Wood | Best Used For |
| Hickory | Tables, beds |
| Aspen | Bedroom sets |
| Barnwood/Reclaimed wood | Any type of furniture |
| Rough Cut Oak | Any type of furniture |
| Black Walnut | Dining sets, TV stands, coffee tables |
| Cedar, Juniper | Outdoor furniture |
At the end of the day, choosing the best wood for your log furniture is highly dependent on you and the kind of look you're going for.
Choosing the Perfect Furniture Size
The size of the log furniture you pick can make or break how functional and stylish your space turns out.
Placing small pieces of log furniture in a big room can make them look short. Massive pieces in a small room will overwhelm the entire house. This is not the kind of look you want to end up with.
This entire process can be made seamless by:
Knowing your space's dimensions
Understanding your layout
Measure Your Space
Imagine this: You buy a sturdy and beautiful log bed from our exquisite bedroom collection and get it up to your mountain lodge only to realize it doesn't fit.
What a bummer!
As exciting as furnishing your farmhouse or cabin sounds, hitting Buy on our website should be the last step in your journey. The first is measurements.
When you have the exact dimensions of each room, you'll save yourself lots of tears and money.
Choose the Best Layout
From the onset, have a layout in mind. Decide what goes where and how everyone can best enjoy the space.
There are several tools to help create these layouts. Pinterest, for instance, is a free tool that can help you create a mood board for your room. A mood board serves as inspiration and helps you envision your space beforehand.
Move things around, and see what works and what doesn't before you commit to any big purchases.
As our wise founding father once said:
"Failing to plan is planning to fail."
2 - Maintain Your Dream Pieces
After you've invested in your dream pieces, it's only prudent that you do your part to ensure their sustainability. 
Don't worry, this doesn't require any nail or bank-breaking on your part.
Even though log furniture can stand the test of time, a simple maintenance routine ensures:
Proper preservation of furniture
Safety, e.g., from splinters
Natural and Gentle Cleaning Is The Best
"Great product easy to use and Rustic Varnish looks great on my moon valley deck chairs keeping my wood looking great"
Cleaning your pieces can be as simple as dusting or gently wiping them down with a microfiber cloth. Proper dusting requires proper dusting tools that dust will cling to rather than scatter back into the air.
These can be a feather duster, a microfiber duster, or a piece of your old cotton shirt. Just ensure it's 100% cotton.
Contrary to popular opinion, you don't need to go ham on detergents as they can disagree with your wood.
As a rule of thumb, stay away from all-purpose cleaner sprays. They'll dull your log furniture by stripping it down. If you feel you need to incorporate some type of detergent, ensure it's only the gentlest cleaner, and only use it on finished wood.
Wood that has been finished has undergone processing and treatment. This can either be sanding, staining, or painting. Sometimes finished wood has been sealed with a protective finish that makes it more resistant to moisture and other elements.
Unfinished wood, on the other hand, has not been treated or processed in any way. It's typically as is from the initial cutting and sawing. In this case, it should only be wiped down with a dry cloth as any water or product will cause mold and rot.
Expert Tip: Use placemats and coasters to avoid your pieces scraping or getting ruined by beverage spills. Wipe any spills immediately to avoid further damage.
Protection from Elements
Protecting log furniture from elements such as too much sunlight and moisture is essential for:
The longevity of the pieces
Maintaining the beauty of the wood
Safety from cracked and unstable wood
Sunlight
Over-exposure to direct sunlight can cause the wood's color to fade. Too much heat from the sun causes the wood to dry out, which can lead to cracking and splitting.
Be sure to place your log furniture away from direct sunlight. For outdoor pieces, the ideal place would be under the shade. Another great idea would be to apply a UV protection oil on them.
Moisture
As a general rule, try to keep 40–60% humidity in your home. Extreme ends of moisture can not only cause your wood to crack but also rot.
This is hazardous to not just your furniture but also your health. Excess moisture levels create a conducive environment for mold and dust mites, which can trigger allergies, asthma, and many other respiratory diseases.
When the moisture levels are too low, the wood dries out too much and ends up with gaps or cracks.
If it's proving an extreme sport to get moisture under control, it might be time to get a humidifier or dehumidifier.
While a humidifier releases water vapor to increase moisture levels, a dehumidifier does the opposite—it removes excess moisture from the air.
This is a worthy protection of not just your investment but also your health.
Choose the Best Log Furniture Store
When all is said and done, the greatest determinant in your journey is the furniture store you choose.
If you're going to spend your hard-earned money on log furniture, you might as well make sure you're getting the best value in the market.
At Rustic Furniture Marketplace, we pride ourselves on delivering top-quality log furniture made right here in the USA. 
It's for placing value over quick sales that numerous customers have left us so many glowing reviews.
"Workmanship style comfort looks, all come together with this product, and arrived in less than two weeks. Great that it's 100% made in the USA…"
Whether this is your first piece of log furniture, or you're seasoned in the area, congratulations.
Reach out to us and we will happily walk this beautiful journey with you.
Share on Facebook: