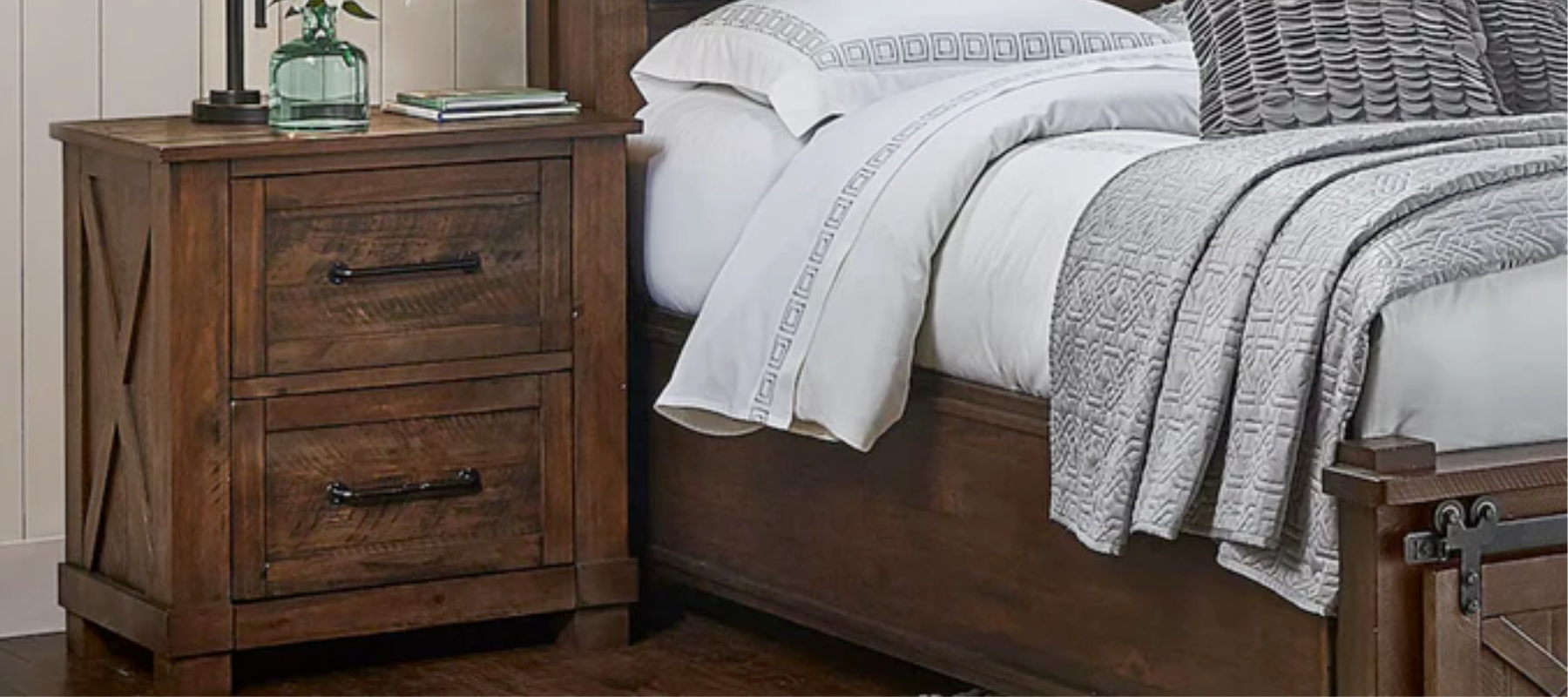 5 Clever Styling Ideas for Rustic Nightstands
A handy nightstand is a bedroom essential, designed to hold the necessary items you'll need during the night; such as your phone, a glass of water, or a beloved book. And rustic nightstands bring that extra natural, unfinished, yet stylish feel to your bedroom.
Your nightstand is probably the first thing you'll see in the morning and the last when you go to sleep. As such, it should be a picturesque fixture and not stick out like a sore thumb.
The accessories you use to style your rustic nightstand must include something:
Personal, such as family photographs
To add height, such as bedside lamps
Ambient, such as vintage pieces
To liven up the space, such as flowers
At Rustic Furniture Marketplace, we curate the best rustic nightstand pieces for all your tastes and preferences.
Fun Fact: In ancient Greece, nightstands were used to hold chamber pots. These were basically nocturnal potties; portable toilets that were used at night and then dumped during the daytime.
The following list of styling hacks will make your nightstand a swoon-worthy decor statement.
1 - Fashionably Lit
Mellow, soft lights are warm and inviting and work best with the distressed look of rustic nightstands. You can also use light-filtering shades to give off warm hues.
Expert Tip: Shop for light shades that match your bedroom curtains and bed sheets. It creates a cohesive color scheme.
If you prefer mounted lights, you can use sconces instead. The frames must augur with your bedroom's decor, and be an earthy tone, such as walnut or gold. Your lamps can also be a neutral color so that they go with the whole rustic ambience.
As a best practice, first place your night lamp on your rustic nightstand then use it as a focal point around which to arrange other items. Of course, your lamp shouldn't take up too much space as it may impede accessibility of the other essentials on the nightstand.
Our MONTANA WOODWORKS GLACIER COUNTRY COLLECTION NIGHTSTAND allows you to choose your favorite exterior finish so that it meshes with your bedroom's countryside look. We have a variety of rich tones for you to pick from.
2 - Art Attack
Most interior designers suggest starting with the largest piece when styling; be it your night lamp, art piece or plant. If you want your art pieces to go on top of the nightstand, measure the dimensions of both, just to be sure. This way, you can choose whether your pieces will be hung on the wall above or lean on the nightstand itself.
Your rustic nightstand must not appear too swarmed, as if the pieces are fighting for attention. Organize sparingly and tastefully. For instance, if you're using two art pieces, while they need not be identical, they should be cohesive.
Understated art pieces work best with rustic nightstands. Preferably simple, coordinated shapes with a continuous color palette such as rich browns or beiges.
Your art pieces must be:
Inviting
Refreshing
Timeless
In addition, you can include family portraits and photographs, or special mementos.
Our rustic nightstands, which can be used as actual heirlooms, will be the best complimentary option for immortalizing your most precious memories.
Another way to ingeniously style your rustic nightstand is with framed quotes. Reading a motivational or quirky quote in the morning is a great way to start your day. If possible, have the font in cursive, or just any simple font, to enhance the simple rustic vibe.
Pro Tip: The trick with rustic design is not to overdo anything.
3 - Strike a Prose
Books: The most novel idea to immortalize our words. Now, imagine if these books were leather or linen-bound. How amazingly vintage will the whole decor be?
"Books are not made for furniture, but there is nothing else that so beautifully furnishes a house."
Books amplify a room's ambience, especially if you stack them from heaviest (at the bottom) to lightest. There's something about arranging art pieces and decor pieces in odd numbers that creates a harmonious and memorable feel.
You can then place other accessories on the stack, such as coasters, catchalls, or your cell phone.
Our BARKMAN FURNITURE CHESAPEAKA 3-DRAWER NIGHTSTAND provides extra drawer space for your bigger volumes.
To find such books, visit your local flea market and ask for vintage volumes. These aren't meant to be read, but to simply add to the refreshing farmhouse aura.
4 - Plants Are My Buds
Nothing livens up a space like greenery. Indoor plants turn your bedroom into a sanctuary as they purify the air and improve sleep.
Picture a large ivory vase with huge pampas grass on your rich tan nightstand. Whimsical, right? This accent piece provides a grandiose rustic-chic feel that's sure to be the showstopper.
The best thing is that pampas grass is relatively affordable, doesn't need much attention, and lasts for years. However, if you prefer a dazzle of color and have more time to spare, you can consider decorating with greener plants or flowers.
Succulents and cacti are great options that don't require much water or sunlight. A bowl of moss will also look amazing on a maple or walnut nightstand. Some other plants that will look breathtaking on your nightstand are:
English Ivy
Lavender
Monstera
Rubber plant
The options are limitless. Just make sure to ask your florist if your house plant may cause irritation to your pets—if you have any—before purchasing.
Tip: Place a waterproof tablecloth on your nightstand if your plants will require frequent watering. It prevents damage and prolongs your table's longevity.
5 - Unleash Your Inner Muse
Here's your chance to be as daringly creative as you want.
Refine your space with sentimental stuff and other beautiful accents like the cute trinkets you bought at the curio shop (however, remember that less is more).
A brass candlestick, for instance, would look fantastic on a maple nightstand such as our VIKING LOG SAWTOOTH HICKORY THREE DRAWER NIGHTSTAND. In fact, this is the largest rustic nightstand we have, so it fits whatever-sized decorations you may have.
This is your cue to be as audacious as your gusto goes.
The Versatility of Rustic Nightstands
It's quite interesting to see how rustic nightstands can be styled. They're multifunctional and transitional, making them suitable alternatives as side tables or even as accent cabinets in your living room.
And rustic nightstands are not just a bedroom confine. They can be used to store the nitty-gritty of your living room, such as magazines, remotes, or coasters. It's a perfect decluttering solution.
Plus, the drawers will help you hide the mess when impromptu guests show up and you've had a very busy week at work.
It's convenience and style, all wrapped up in one.
Key Perks of Our Exceptional Rustic Nightstands
One of the best things about our rustic nightstands is that they're purely handcrafted in an intricate process from sourcing to finishing, making them authentic and durable.
"Excellent company to deal with. From ordering, to fast delivery, accepted return."
The table below provides a snippet of the outstanding features of some of our rustic nightstands:
Note: This table is just a snippet. Contact us to explore more custom options for you.
There you have it.
Our rustic nightstands are precious bequests that can be passed down from generation to generation. So, when buying our rustic nightstands, you're not only paying for convenience but for value.
Share on Facebook: